Symbol Mark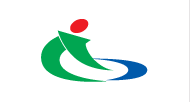 The blue oval represents Yedang Reservoir (Yedang Lake) as an image of water, which is a source of life.
The green oval symbolizes a clean and garden city in a well-preserved natural environment.
The yellow oval signifies abudance and hope and represents the golden plains in the area.
The red point refers to the target of Yesan's development and represents the sun and apples.
Brand Mark
Emblem
This is the brand mark of Seocheon representing openness, cooperation, balance, growth and development, happiness, hope, vision and future of Seocheon.
[Intention]
1. The image of Seocheon, which is dedicated to bringing joy and a brighter tomorrow for the county residents, was illustrated in a beautiful calligraphic style and represented dynamically through the imagery of the brilliance of the sun observed the west coast and the clean natural environment of Geumgang River and the interior.
2. Two circles were placed symmetrically, while an imagery of the symbol of infinity (∞) was depicted at the center of the calligraphic expression as a means to show that there is an infinite amount of joy and hope in Seocheon.
3. "Happiness" and "Seocheon" were used as the keywords to demonstrate the ultimate objective of development. The orange color symbolizes warmth, harmony and agreeable impression, while the green color symbolizes freshness, nature-friendliness and cleanliness.
[Keywords]
Openness, cooperation, balance, growth and development, happiness, hope, vision and future
[Significances of the Colors]
Orange: symbolizes harmony, cooperation, harmony, passion, warmth and dynamism
Green: symbolizes the pristine natural environment and bright future of Seocheon
County flag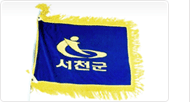 Seocheon-gun's flag created based on the Hangeul characters, ㅅ, ㅊ, ㅓ and ㄴ demonstrates a harmony of energetic and dynamic curves, symbolizing the progressiveness of the coastal county, Seocheon
County flower: Camellia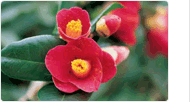 The Seocheon Maryang-ri Camellia Forest, designated as Natural Monument No. 169, and the Seocheon Camellia Octopus Festival have helped to promote the beauty of camellia flowers, which blossom before other flowers in early spring. These red flowers symbolize passionate love and are considered lucky as they can prevent hardships and disasters. Also, because camellias bear many fruits, they also symbolize high fecundity.
County tree: Pinus thunbergii (=Black Pine)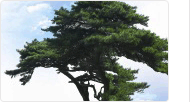 3/4 of the pine trees in Seocheon are black pines, which can withstand the harsh sea winds and are characterized by upright growth. The black pine trees that show strong vitality and vivacity are regarded to symbolize the tenacity, strength and perseverance of those who can endure through various difficulties.
County bird: Oystercatcher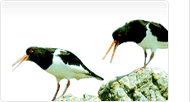 This is a rare species of birds, designated as Natural Monument No. 326. They last the winter on the clean, unpolluted tidal flats of Yubudo Island, which is considered as the perfect place to study migratory birds. Oystercatchers attest to the fact that Seocheon is a clean and beautiful natural habitat.